Who doesn't love a good game of tag?  
I love being tagged in other blogger's posts.  It gives me a blog topic, provides me an ego boost, and best of all it introduces me to bloggers I might not have known or enjoyed otherwise.
And let's be honest, I've been playing a lot of tag lately.  First there was my Fall Five, then there were my Random Facts and today, there's the 7×7 tag game. then  My bloggy friend, Stephanie in Suburbia, celebrated her 2nd blogaversary (WOO HOO!) by rooting through her archives and picking 7 of her favorite posts to celebrate and re-share.
And today it's my turn!  To make it easier, I got to pick posts from my library that fit into the following categories:
Most Beautiful:
You need two warnings before you read this post.  
(1) It's pretty sad.
(2) If you're not ready/interested in reading about losing a child, this isn't the post for you.
I had to dig deep to write this post and I was throw uppy nervous about posting it, particularly since it was my first post on skirt! online magazine.  But I'm so, so glad I did. You can read it here:  The Rose Garden.
As a counterpoint, my most unbeautiful post would definitely be my World Tour of Bad Hair.  Your worst bad hair day's got nothing on me.
I wasn't kidding.
Most Helpful:
Apparently, I'm not the only one out there who suffers from uninterrupted anxiety.  What made this post helpful to people wasn't the I had solutions to anxiety, just that I lifted the lid off the secret of it.  Also?  I love the wordy title: There are 48 Synonyms for "Anxiety."  They forgot one: ME.
Most Controversial: 
I have a whole category on my blog devoted to allowing others to judge me.  Perhaps it's surprising then, that I'm not all that controversial.
Except for the one time I admitted that I don't love playing with my kids.  Remember that?
Yup, that happened.  That happened right here:  No, I Don't Want To Play Princess
Most Popular: 
My post about what it's like to be obese has received hundreds more visits than any other post I've ever written.  It also includes a "before" picture of me at my heaviest weight.
If you are, know, or love anyone who is morbidly obese, this is the post for you. The Silent Battle | Part I: The Pain
Most Underrated: 
I have never in my life worked so hard on a damn birthday cake.  And it was awesome.  What was not so awesome was nearly blowing up the neighborhood afterwards.  B and I have some stupid fun ideas. I owe him thanks for the title: I Lava This Cake
Most Surprisingly Successful: 
My brother, blog name Chuck, has his own tag on The Woven Moments.  Probably because he's hilarious.  Possibly because he's adorable and clumsy.  (Did I mention hilarious?)
Most Pride Worthy: 
Everybody screws up even (and especially) parents.  I'm proud of myself when I take responsibility, even when I have to apologize to my children and right a wrong. I hope you enjoy Mommy's Mulligan.
————————————————————————
My Google reader is filled with blogs that I love.  Blogs that feel like a cup of tea on a cold day.  Blogs that make me want to be a better person.  I'd like to give them all a virtual high five (or hug?) but instead, I'll just tag them in this post and give them bloggy homework.  You're welcome.
I'm dying to read 7 favorite posts from:
If you don't already know these amazing writers and women, I suggest you hole yourself up for an hour or so and spend some time at each of their blogs.  You won't be disappointed…I promise.
I'm linking up with iPPP (iphone Photo Phun!)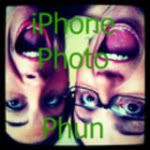 Also linking up with Live and Laugh Out Loud, Project Alicia, and By Word of Mouth Musings, and Seven Clown Circus for Wordless/Wordful Wednesdays!
————————————————————————————————————————————————- 
Come play with me on Facebook or Twitter.
Or better yet, leave a comment below!
————————————————————————————————————————————————