It's my blog birthday!
So I haven't received your card or the beautiful bouquet you are surely planning on sending me.  Wait – did I not tell you that March is my 1 year blog anniversary (blogversary)?  No?  Ok then, you get a pass.  BUT JUST THIS ONCE.
It seems kind of silly to celebrate one year of encouraging others to read what is essentially a glorified diary, doesn't it?  And yet, here we are – one year after I sat down during nap time and wrote my very first post.  And what a year it's been!
There was absolutely no plan for this blog when I started it.  I had no idea who (if anyone) would read it or why.  When I started writing tell-it-like-it-is posts like this and this, I learned immediately that there was a teeming community of women, of friends, of strangers, of readers, that were hungry to connect.
And that was when I got the most unexpected gift of blogging – the one that would keep me writing despite an incredibly stressful year at work, lots of humbling parenting challenges, and the grueling fatigue of being a mom to young kids.
That was when you, friends, told me that I wasn't alone:
You assured me that I wasn't the only one who had suffered terribly embarrassing moments.
Some of you shared that you, too, had once known the pain of obesity.
You told me I wasn't crazy for following the bus on my daughter's first day of Kindergarten.
You promised me that lots of people live with tray tables for nightstands.  (Ok, ok, you didn't do that.  But I'm totally pretending you did, so whatever.)
And what came of all your support?  And our connecting?  And the resulting warm squishy goodness?
I felt empowered to try new things way out of my comfort zone.
I started speaking my truth.  And then did it again.  And again.
I've lived with ears wide open, listening for the next wisdom nugget to share, often because I couldn't wait to hear your response.
I even managed to break up with a major corporation.
All because you told me that I wasn't alone.  That we were in this together.
So thank you, friends.  Your comments, tweets, Facebook posts, emails, and messages have meant more to me than you'll ever know.  You reading this blog helps me become a better me.
And it's in that spirit of inclusion that I invite you to join in celebrating my bloversary.  But I'm not doing it alone!  There are FIVE of us throwing a blogversary party – in the only way we know how – with a blog hop.
So here's the deal…
Mark your calendars for Monday, March 12th through Friday, March 16th, when bloggers can link up a post based on the prompts below and non-bloggers can plan on getting to know more writers who inspire.
My partners in the Great Blogging Anniversary Linkup include:
The Adventures of Daddy Runs A lot
and
All 5 of us will have the linky on our blogs that week and all 5 of us will be writing at least one post on the prompts below.
And that's not all!  If you link up, we'll enter you into a drawing for a special prize that we just can't wait to share with you.  So think about these prompts, mark your calendars, and come back ready to link up, beginning on Monday, March 12th.
We can't wait to celebrate with you!
The prompts:
5 (or more!) Ways the Blogging Community Improves Life
5 (or more!) Blogs that have Influenced my journey (and Why)
5 (or more!) Reasons this year has been "just the beginning"
The Darker Side of Blogging – 5 (or more!) things to Avoid
5 Ways to Technically Improve your blog
What I thought I'd Be Writing About When I Started
What I'll Be Writing About on My 10th Blogiversary
Happy choosing!  And see you on March 12th.
Celebrating you,
Tracy, John, Sweaty, Ryan and Missy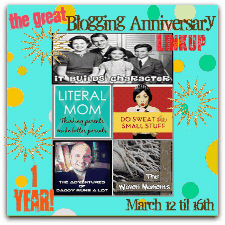 ————————————-
Your comments are better than birthday cake.
Please leave one below!
————————————-
.